Public Media Group of Southern California Executives
Andrew Russell
President and CEO, Public Media Group of Southern California
PBS SoCal, KCET and Link TV President & CEO Andrew Russell is a 25-year veteran of public broadcasting, having held senior executive leadership positions at both PBS and the Corporation for Public Broadcasting. Russell joined PBS SoCal as COO in 2013 and played a key role in building PBS SoCal as it grew into the role of flagship PBS station for Greater Los Angeles and Southern California. Named CEO in 2015, Russell has driven rapid growth in the station's membership and revenues, increased PBS SoCal's content distribution, and forged new partnerships with major Southern California arts and cultural institutions. Russell was responsible for making PBS SoCal the third-most-watched PBS station in the country and the highest ratings of all Southern California public television stations.
In 2018, PBS SoCal merged with KCETLink Media Group (KCET and Link TV) to form the Public Media Group of Southern California. The merger of equals created a center for public media innovation and creativity that serves the more than 18 million people living in the Southern California region. Establishing a powerful PBS flagship organization on the West Coast, the historic union of these two storied institutions created the opportunity to produce more original programs for multiple channels and platforms that address the diverse community in Southern California and the nation, and innovate new community engagement experiences that educate, inform, entertain, and empower. Russell assumed the role of President and CEO of the three organizations.
The new organization is committed to telling stories that matter, creating original programs that reflect the diversity of the region and sharing the full schedule of PBS programs that viewers love and trust. Through three content channels – PBS SoCal, KCET and LINK TV – this dynamic library of programs will be available for streaming on any internet-connected screen, on seven Southern California broadcast channels, and on one national satellite channel. Russell and the organization are also committed to continued community engagement, early childhood education and social impact services.
A California native, Russell holds an MBA from Stanford University, an MPA from Princeton University's Woodrow Wilson School of Public and International Affairs, and is a graduate of the University of California, Davis. He is the Chairperson of the Board of Trustees for America's Public Television Stations (APTS) and in 2021 was presented with their Pillar of Public Service Award. He also serves on the Board of the Los Angeles City Club and is a Member of the CEO Roundtable at UC Irvine.

Juan Devis
Chief Creative Officer
As Chief Creative Officer, Juan Devis is responsible for the oversight of all production and editorial output from long-form episodes to short-form digital series. His role in developing strategic partnerships with funders, organizations and independent production houses ensures a new slate of content for both KCET and PBS SoCal in Southern California and Link TV nationwide. Devis develops creative strategies that define KCET, Link TV and PBS Socal's editorial and artistic vision.
With the foresight of expanding programming onto the emerging digital web platform, Devis has spearheaded the public media company's multi-platform transformation with the creation of award-winning content that includes Emmy® and James Beard award-winning programs that include Artbound, Earth Focus, The Migrant Kitchen, City Rising, Broken Bread, Lost LA and Tending Nature among many others.
For more than a decade, Devis has worked with a number of non-profit organizations and media arts institutions in Los Angeles serving as producer, director, educator and board member. Devis was appointed to serve as a member of the California Arts Council from 2018-2020 and was a trustee of the California Historical Society from 2018-2019. He is currently a board member of the California Cultural and Historical Endowment, which funds museums and cultural centers across the state as well as a national impact advisory council created by Participant Media. He has won numerous awards for his film, television and interactive work including Emmys, Webbys, Golden Mikes, National Arts & Entertainment Journalism Awards, Southern California Journalism Awards and more.

Jamie Annunzio Myers
Chief Operating Officer
Jamie Annunzio Myers is Chief Operating Officer of Public Media Group of Southern California – formed by the merger of PBS SoCal and KCETLink Media Group – responsible for driving operations and ensuring strategic alignment across all aspects of the organization.
Previously the COO and VP of Education and Community Engagement at PBS SoCal, she is credited with developing new lines of business and evolving key departments – ultimately strengthening the foundation needed to build a growth company. In her previous role as Vice President of Education and Community Engagement, Myers built PBS SoCal's presence in the community, creating and nurturing important partnerships, developing best practices, and expanding the breadth and depth of the organization's educational and cultural grassroots outreach across Southern California.
Myers has more than 15 years of classroom and school district experience at Chicago Public Schools and ABC Unified in southeastern L.A. County. She holds master's degrees in education technology and educational administration, as well as a bachelor's degree in elementary education, and is certified by the National Board in Technology Education.
Paul Nelson
Chief Financial Officer
As Chief Financial Officer, Nelson directs Finance, Accounting, and Administration functions for KCET, PBS Socal, and LinkTV. He works closely with the Board of Directors on financial planning and management, investment management, business development, growth strategies and strategic planning.
Nelson brings more than 20 years of experience in leading finance operations and public accounting engagements at major organizations – fourteen of those in senior leadership roles at national media companies. Previously Nelson was Senior Vice President Finance at Tribune Publishing where he was integral in shaping its digital media strategies. Additionally, as Vice President Finance and Controller for Universal Studios Home Entertainment, he led efforts to incubate an independent film acquisition and distribution business and built key financial processes and controls for the rapidly-changing operation. He started his career at Ernst & Young and KPMG managing financial audits, M&A engagements and integration planning for private equity clients and large organizations.
Nelson was born and raised in L.A., holds double bachelor's degrees in economics and English from UCLA, and is a Certified Public Accountant.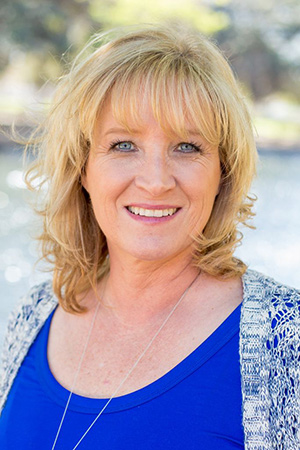 Dawn Ariza​
Senior Vice President, Finance & Administration​
Dawn Ariza brings a diverse background in accounting and finance to her role with the Public Media Group of Southern California and its three content channels – PBS SoCal, KCET and Link TV. Ariza has played a critical role in preparing PBS SoCal to transition from a small local station to becoming the flagship PBS station for Greater Los Angeles and Southern California. Upon joining PBS SoCal in 2004, Ariza created the HR foundation for the organization, including developing competitive health and 401K benefits plans and modernizing payroll as well as other employee-driven functions. Later, Ariza effectively managed the organization's finances during the 2008 recession and beyond.
Ariza's previous experiences include management, finance and HR roles for companies in a wide range of industries including medical appliances, restaurants, international manufacturing and television. Ariza holds a B.S. degree in accounting from the University of Colorado in Colorado Springs and Managerial Accounting Certification from Colorado Springs' College of Business.

June Baldwin
Senior Vice President, General Counsel, Corporate & Legal Affairs
June M. Baldwin is the Senior Vice President, General Counsel of Public Media Group of Southern California ("PMGSC"), the newly formed company resulting from the merger of KCETLink and PBS So Cal. Baldwin joined KCET in March 2004. She played a critical role in KCET's recent merger with PBS So Cal, its merger with Link Media in 2012 and its business restructure in 2017.
Before joining KCET, Baldwin held Business Affairs positions at NBC, UPN and Columbia TriStar Television. She also served as Head of Business Affairs at independent production companies for Johnny Carson, Norman Lear, Quincy Jones and Aaron Spelling.
Born in Philadelphia, she graduated from Stanford University before attending Harvard Law School. Leaving Cambridge, she then clerked for the esteemed jurist Luther Swygert on the 7th Circuit Court of Appeals in Chicago, Illinois.
Currently, Baldwin serves as Second Vice Chair of the Executive Committee of the Business Law Section of the Los Angeles County Bar and is a Governor of the Institute for Corporate Counsel. She is a founding Board member and Treasurer of the Stop Bullying Foundation, Inc. and serves on the Advisory Board of The Minority Health Institute. Baldwin is also on the Board of the Arch Mission Foundation and the for- profit board, Magical Technologies, LLC.

Dan Ferguson
Senior Vice President, Marketing and Communications
Dan Ferguson brings over 20 years of experience in leading the successful launch and growth of digital and subscription video services on streaming, satellite and mobile platforms. During his combined 15 year tenures at both DIRECTV and AT&T, he operated across several marketing functions, including Consumer, Lifecycle, Original Content, and Retention. Ferguson led the marketing and go-to-market strategy for the launch of several streaming services including DIRECTV NOW, WatchTV and Outfest Online Powered by DIRECTV. Ferguson was Director of Affiliate Sales and Marketing at STARZ from 2002-2006.
In addition to his professional experience, he brings a passion for community engagement and impact. From his work helping launch FosterMore eight years ago, an effort to rebrand foster care (in partnership with PBS SoCal), to serving on the Board of Directors with Outfest (the largest LGBTQ film festival in the nation), to his recent efforts to expand access to sports to underserved communities, Ferguson believes in the power of individuals to impact their communities.
Ferguson is originally from Lafayette, IN and received his Masters degree in business at the University of Colorado in Boulder after studying Marketing at Colorado State University.

Corbett Barklie

Vice President, Advancement
In 2011, Barklie joined the KCET fundraising team and now holds the position of Vice President of Advancement for the Public Media Group of Southern California which was formed by the merger of KCET, PBS SoCal and Link TV.
Barklie has had a commitment to arts and culture in Southern California since 2000. She previously served as the Deputy Director of Development for Center Theatre Group (The Ahmanson Theatre, Mark Taper Forum, and the Kirk Douglas Theatre). She was the Executive Director of ARTS Inc., an organization committed to addressing the needs of the small to mid-sized arts community in Los Angeles and worked as a consultant and advisor to the National Endowment for the Arts in its Challenge & Advancement Program. Barklie also worked on significant projects with the International Documentary Association, the UCLA Film & Television Archive and the American Society of Cinematographers as a development and campaign consultant.
From 2002 to 2014, Barklie was an Adjunct Professor at the University of Southern California, School of Dramatic Arts and regularly teaches and mentors for the Center for Cultural Innovation. She is a frequent panelist for the LA County Arts Commission, the City of Los Angeles Department of Cultural Affairs, the City of Santa Monica Arts Council, the Culver City Arts Foundation and the City of West Hollywood.
Robert Dea
Vice President, Corporate Sponsorships​
Robert Dea brings nearly 20 years of experience in advertising sales and sales management in public television, print, digital and direct-response revenue development to his role as Vice President of Corporate Sponsorships for the Public Media Group of Southern California and its three content channels – PBS SoCal, KCET and Link TV.
Since joining PBS SoCal in 2014, Dea has grown the organization's corporate underwriting support by 8%, developing deep partnerships with organizations across Southern California including City National Bank, Museum of Contemporary Art Los Angeles, Music Center, L.A. Opera and UC Irvine. Dea started his career as an advertising copywriter, then moved into sales, holding positions at Advo Inc., Los Angeles Times, Orlando Weekly, East Bay Express and, most recently, Associate Publisher for L.A. Weekly.
Dea is a native of Southern California and sits on the Board of Directors for Healthy Smiles for Kids of OC and is Vice Chair of the TV Heritage Group for PBS. He holds a bachelor's degree in communications from California State University, Fullerton.
Maura Daly Phinney
Vice President, Membership and On-Air Fundraising
With more than 25 years of experience in fundraising and production for public television and radio, Phinney oversees all membership fundraising efforts for KCET and PBS SoCal – on-air, online and direct mail. Under Phinney's leadership, the organization has seen tremendous membership growth and now counts on more than 125,000 active members across the six Southern California counties. She launched the station's successful Sustaining Member and Producer's Club programs and transformed the member fundraising team into one of the top performers within the PBS system.
Phinney has produced over 200 programs, series and fundraising specials that have been distributed nationally by PBS including, "Panda Tales"; "A Salute to Vienna"; Tommy Emmanuel: Live from the Balboa Theatre; "Zoltan Maga: From Budapest with Love"; "Yakov Smirnoff's Happily Ever Laughter" and "Quincy Jones Presents: Sheléa." Before joining PBS SoCal, Phinney held a variety of fundraising and production positions at WETA in Washington D.C., KQED in San Francisco and KPBS in San Diego.
Phinney has won numerous awards including an Emmy and several Telly awards. She holds a bachelor's degree in political science from the University of California at Berkeley.
Kim Spencer
Senior Programming Executive, Link TV
Kim Spencer is Senior Programming Executive of Link TV, the independent satellite channel operated by the Public Media Group of Southern California.
A producer of more the 60 documentaries and news specials, Spencer helped pioneer satellite "spacebridges" between the US and Soviet Union in the 1980s. He was a co-founder in 1982 of Internews Network, an NGO that now supports independent media in 70 countries. Spencer was also coordinating producer at the launch of ABC News "Prime Time Live" in 1989, producing coverage from multiple countries. In the 90's in Paris he developed the innovative Vis à Vis series: transcontinental video dialogues linking people 'face to face' from their homes and workplaces, edited into twenty hour-long programs for European broadcasters and PBS.
In 1999, Spencer co-founded Link TV, the independent satellite network devoted to global affairs, now available in 34 million US homes via satellite on DIRECTV and DISH Network. He served as President of Link Media for 11 years and was responsible for raising over $60 million to fund the channel. Spencer helped create the Peabody Award-winning daily news program Mosaic: World News from the Middle East, the documentary series Bridge to Iran, the digital media platform ViewChange and the weekly series Earth Focus, the longest-running environmental program on American television.