'I've Always Used My Imagination As An Escape Tool': Camille Rose Garcia's Psychedelic World
Three women — a wizened witch, a sleek, pipe-smoking femme fatale and a bare-chested school girl sporting a mini-skirt and a sword — shimmy up the hairy shank of a monstrous wolf. It's not just the beast that's foreboding; part of his massive torso has been replaced by a melty mountain range with a gaping chasm at its center.
"There's always the battle, I feel, as a female. You're always going to be fighting. And you're always going to be fighting something really big," said Southern California native Camille Rose Garcia, whose painting "Someone's in the Wolf" illustrates that conflict using characters straight out of a feverish fairy tale. (Another painting, "Lolita Phantasm," shows the aftermath of that fight — two battered beauties standing on either side of the wolf's decapitated head, filling their brimming chalices with his blood. "They're coming into their power and [becoming] aware of their strength," the artist explained.)
Blending beauty, horror and humor, Garcia, 46, uses the visual language of vintage cartoons and classic children's stories — filtered through a surreal, psychedelic lens — to explore such subjects as female sexuality, feminine identity and the cultural clash between the manmade, natural and spiritual worlds. The result is equal parts Edward Gorey and Brothers Grimm; Walt Disney by way of David Lynch; Betty Boop with a dash of William S. Burroughs.
"I've absorbed a lot of Disney cartoon imagery. That was absorbed from earlier fairy tales. Now future generations will hopefully absorb how I've reinterpreted those symbols through my life" and art, Garcia explained. By using visuals that tap directly into the viewer's subconscious, she added, she's "trying to remind people of something that they don't even know they forgot." "I love playing with that sense of familiarity," she said.
Garcia first learned about the political power of imagery from her activist parents, who divorced when she was 1. Her Mexican filmmaker father, David Garcia, is best known for chronicling the death of Los Angeles Times reporter Ruben Salazar, who was killed during the Chicano Moratorium's August 1970 march in East Los Angeles, in his documentary "Requiem 29." Her mother, Rosemary Garcia, who is white, is a muralist and sign painter.
"They were bohemians" emboldened by the counterculture movement of the 1960s, Garcia said. "I always just understood that was ... what artists did — artists pointed out and brought to light social injustice."
Growing up in the suburbs of Orange County, she discovered the delights of Disneyland alongside the more pungent pleasures of the Southern California punk scene.
"For me, punk rock was a very, very visceral and immediate expression," said Garcia, who took inspiration from the way bands such as Dead Kennedys and The Clash created politically charged music without losing their pop culture appeal. "You could have something entertaining and joyful that had anger and social commentary within it. ... I always thought, 'OK, is it possible to do this with art?'"
Although Garcia, who holds degrees from Los Angeles' Otis College of Art and Design and UC Davis, once shied away from identity politics, she now embraces the idea of sharing her struggles through her work. (In addition to her own graphic novel, "The Magic Bottle," she's illustrated modern editions of "Alice in Wonderland," "Snow White" and "Cinderella, or the Little Glass Slipper.") "I've always felt that the most exposed, raw, personal stories ... tend to resonate in the most universal way because we all go through these things as humans," she said.
For her latest solo show, "Phantasmacabre," which ran last summer at Los Angeles' Corey Helford Gallery, Garcia developed a personal "language of symbols" inspired by tarot cards.
In her psychological shorthand, spiders fill in for the fates, their webs tying everything together. A hand holding a chalice represents "the vessel of love" and acid-hued flowers — lush orchids, curling ferns, fleshy fungi — symbolize "the joy springing up from overcoming something pretty big," she said.
Teeth, which Garcia interprets as symbols of mortality, also figure heavily in her upcoming book and animated film, "The Cabinet of Dr. Deekay." (She's working with Martin Meunier, whose film credits include "Coraline" and "James and the Giant Peach," on the movie.) A nightmarish tale about a sinister doctor who rearranges his patients — one character awakes to discover that his hands have been replaced by a lobster claw and an egg beater — it was inspired by the artist's reaction when she was administered anti-anxiety medication for gum surgery.
"I was totally shaking. I was crying. I had amnesia, a complete disconnect of brain from body," she recalled. "You're being tinkered with and you're not quite sure if you're still you. I thought that was a good metaphor for how our world is [changing]. Nothing is recognizable."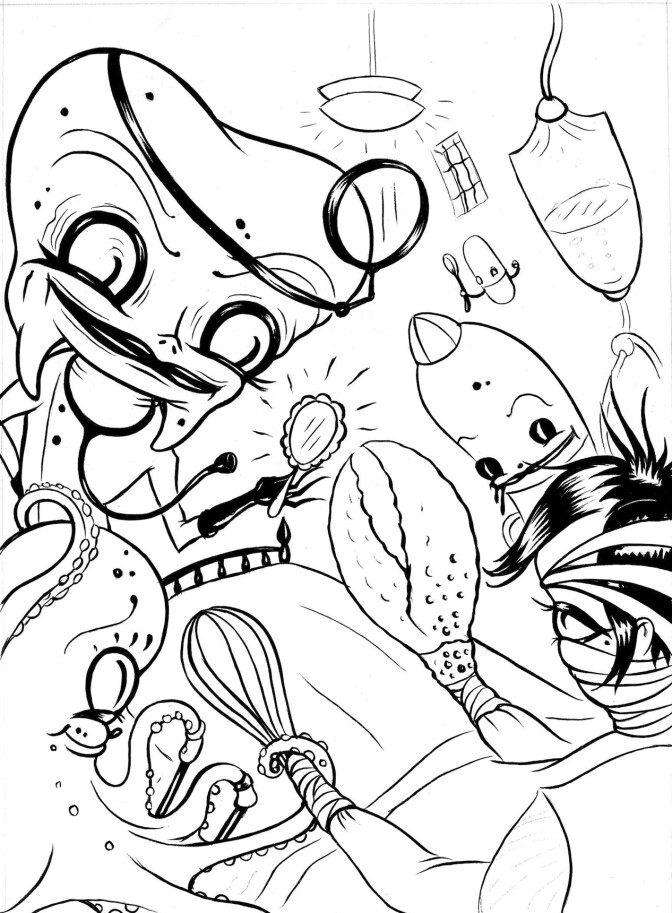 Not surprisingly, Garcia cites Chilean-French filmmaker Alejandro Jodorowsky, whose movies brim with mind-bending imagery, as a major influence. "When I'm watching his films I feel like I'm under a spell or in a dream state where I'm not exactly living in a linear time zone. His work takes me out of Western civilization and the norms and conventions of that," she said. "I like that because it reminds me there are other ways to perceive the world."
Garcia added that she's always felt a link to the mysterious and supernatural. "I have Yaqui Indian and also Mexican ancestry. ... I feel from that side of me there is more a relationship to the spiritual world," she said. "We're very pragmatic and very rational in this country and I think it's to our detriment because we lose touch with something that is a little more sublime," she said.
Garcia recently chatted with Artbound about her work — currently being showcased in the touring group show "Turn the Page: The First Ten Years of Hi-Fructose," at Ohio's Akron Art Museum through May 7. She'll also be featured in the coming months at the Dorothy Circus Gallery in Rome and at the Corey Helford Gallery.
Since 2007, you've lived in Gasquet, California in Del Norte County, near the Oregon border. How does that remote setting affect your work?
You have to get used to a certain amount of solitude (laughs) but I like it. I really enjoy it. I prefer to tune into something that always gets drowned out. ...
I pretty much live in nature. I hike almost every single day. The redwoods are right here, and the ocean is here. It inspires a sort of inward journey, an inward exploration. Once you're in a quieter space, I feel like it opens up room in your imagination.
Were you always that kind of person? Were you a dreamy little girl?
Yeah! My parents were artists. … And the household was generally arty. There were record players around, music. I was encouraged to make things.
I probably spent more time than other people in a world of imagination that was an acceptable place to be. It always felt very natural. There was never a point where it was like, 'OK, it's time to grow up and get a real job.' ...
I don't feel much different than I did when I was 5, in a way — most ways. (laughs) That sort of joy of living in your imagination, it's a thing to be cherished because it's easy to lose it, lose that relationship with your own imagination and your inner child-like wonder of the world.
Especially now. ... There's a lot of people struggling with being able to get up and do any work. A lot of my friends are mired in the reality of Western civilization that we've created, mired in a psychotic culture that is a patriotic, militant, oppressive, corporate-sponsored kind of environment. Not to the point of a North Korea, I wouldn't go that far. But I think there is a collective mass-hypnosis that happens where people tend to forget that there are other ways to live and that humans have lived other ways. This feels like the only way.
What awoke you to that other reality?
I've always used my imagination as an escape tool. A lot of artists and creative people, I think, use it to escape into a world or escape from a world they live in that's more horrible.
For me it was growing up with a single mom. She had live-in boyfriends and there was a lot of alcoholism, some abuse and darker stuff. I feel like I always used my world, my imagination, as some way of escaping to a safe place.
It's very necessary for us as humans to be able to tap into somewhere in our mind that is not a place of fear and a place of horror and sadness and everything else. For me, that's always been a place I've been able to tap into.
Talk about the three female archetypes that figure in "Phantasmacabre" — the girl, the queen and the crone.
They're all different symbolic versions of the journey to self. The young Lolita — or the Snow White or the Cinderella — is the young sexualized version of the feminine that is maybe innocent but also unaware of her power ... Young women certainly don't know their power and they don't know how to ask for things. I certainly didn't when I was young. I was a people pleaser. ... Me as a young woman did not want to be too confrontational or too in your face. ...
The adult woman character was inspired by film noir actresses [like] Ava Gardner, these femme fatale Hollywood sirens. ...
[Another] one of the main archetypes is the old crone — the witch, the hermit. I felt like 'Oh my god, I'm going to be that person soon. What does that entail?' There's something terrifying in our culture about females aging. You become invisible or you become horrifying. ...
I like the idea of breaking down what those archetypes meant for me on a personal level, and emboldening them with a little more power than they might have had in some fairy tales. I think we've evolved past that — being a helpless female — as females, so that doesn't have to be part of the story any more. You don't really need saving.
What does it mean to be female? What does it mean to be vulnerable? What does it mean to be sexual, or to express that [sexuality] in a way that feels confident?
What did it mean for you to have these characters take back their power?
The whole show really was about [taking] a more aggressively feminine stance. When I first started I did more of these younger cartoony girls and they sold really well, but there was a certain element that made me uncomfortable about that. It's an easy thing to like; it's like liking a baby deer. Everyone can enjoy that.
I like the idea of growing out of that and growing into a more confrontational, uncomfortable feminine idea that makes you have to think about what I'm talking about. Something that you're going to have to be uncomfortable about. (laughs)
You created a "language of symbols" for "Phantasmacabre." Share some examples of what certain symbols mean to you.
A really, really personal symbol was these vultures holding these nooses. The vultures are from "Snow White" which is still one of my favorite Disney movies. ... They're just a foreboding element.
[As for] the nooses ... Right after high school, I moved in with my boyfriend for about five years. He was very mired in heroin addiction and eventually ended up hanging himself. He was one of the most beautiful, creative people I've known. For me, that's a personal symbol of a sadness that you can release, let go of or hold on to. It's a sort of albatross. ...
The Big Bad Wolf also is from an early cartoon. He became really symbolic of those early years and those abusive, alcoholic males that lived with me, my sister and my mom. At the time, all of us didn't know our power enough to really be able to stop it. The painting of [the two lolitas] slaying the wolf was a way of going back and taking the power back from that situation. ...
For me, the tooth is my own personal reminder that this is just the [physical] body and it's crumbling and it's not permanent. It's a constant reminder of death.
Instead of using a skull everywhere, which is our universal symbol, I would use a tooth.
Much of your work deals with the conflict between the manmade and natural worlds. Talk about that.
In our society there is a battle between nature and culture. We feel like we have to tame nature. We have to control it and corral it. We don't view ourselves as having much of a part of it, or being a part of it. And also we don't spend enough time in it to have a sublime relationship with nature or with animals. That I think is to our detriment as human beings.
We always call them [plants and animals] — natural resources, and they're beings that all have their lives and souls and cultures. But we never talk about any of these things.
Not having a close relationship with [nature] anymore, I feel, is really interconnected with the anxiety that a lot of people feel and also a cultural depression. It's definitely all connected. ...
My challenge always as an artist is how to bring these concepts to people in a way that is fun and beautiful and touches into that magic that I feel like we don't have a relationship with.
How does your cultural background play a part?
I have Yaqui ancestry and we were called the Deer People. Part of the folklore was that we used to be able to communicate with the deer, talk to the deer. I just think it's really interesting that there might have been a time when humans and animals communicated better. ... Now in the modern world we go to see them at Yellowstone or zoos, but there's not that intimate knowledge and communication with the animals that live amongst us.
There's a disconnect with nature entirely. And almost a hatred of it and a wiping out of it, a complete disrespect. That's, I think, the absolute worst quality of our culture is to not acknowledge the importance of [nature]. It's completely invisible, even more so than female rights or civil rights.
No one speaks for the trees. No one speaks for the rivers.
Why is it important for artists to be a "voice of opposition," as you put it?
Generally, artists, writers, musicians throughout history have been the voice of resistance and the voice of an alternate viewpoint. ... That's definitely the role of me as an artist — to try to point out something that we don't stumble upon in this culture often enough. ...
I have always related to artists that have done that — critiquing culture as it is now but also providing some sort of relief from that either through beauty or humor. ... I think they serve very necessary roles in terms of some of the things that they can provide.
As a working artist, a lot of times you can feel very superfluous: 'I'm just making my little doodles.' It just seems like it's not serious work. To find something in there that people need, I find that kind of challenging.
Like this story? Sign up for our newsletter to get unique arts & culture stories and videos from across Southern California in your inbox. Also, follow Artbound on Facebook, Twitter, and Youtube.