Cornerstone Theater Company's "Love On San Pedro" is a collaboration with the community of Skid Row, Downtown Los Angeles. Inspired by the stories of hundreds of Skid Row residents, playwright James McManus' new work sheds light on a neighborhood where homelessness and poverty are the norm, but a spirit of creativity, activism and determination thrives. Starring both professional actors and over 20 community members, the play is being presented November 7-24 at Los Angeles Mission, in the heart of Skid Row .
"Skid Row is what you see and it isn't what you see," says Shishir Kurup, the director of Cornerstone Theater's "Love on San Pedro" project, in one of our early design meetings. This strikes me as holding a very precise truth -- not just for someone like myself who is new to the project, and new to understanding the neighborhood on a face-to-face level. But also for folks who have made their home or their work life on Skid Row. It is -- and isn't -- what you see, what you hear, what you suspect, what you wish for. James McManus' play "Love on San Pedro" investigates those contrasts. Working with a mixed cast of Skid Row residents and professional actors, the physical life of the performance navigates fluidly between the forest and the trees of Skid Row's ecosystem.
I've had a long-term interest in reclaimed spaces. It's part of what draws me to designing for location-based performance. I'm particularly interested when the scale of reclamation requires an entire social structure to support it - from Kowloon Walled City in Hong Kong, Cristiania in Copenhagen, Kibera in Kenya. One in six people globally live in a so-called "slum," or informal settlement - a much more instructive term. Skid Row is ours -- petite in the scheme of global poverty, but a strong reminder of the widening inequality gap in the US. Informal settlements are places of rigorous inventiveness, endless re-appropriation. And often, they are places where people take care of each other to degrees that those Americans living in neat, discrete neighborhoods would have a hard time imagining.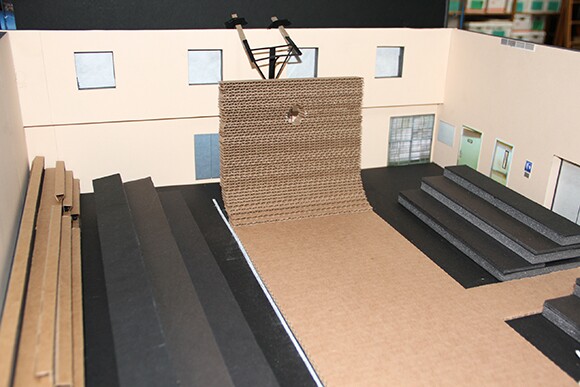 The truths of place are delivered through many means, but for me as a designer - one of those conduits is always physical material. Walking around Skid Row with producer Daren Taylor and Downtown Los Angeles Neighborhood Council's Wendell Blassingame illuminated how the facades and materials of the place had a deep palimpsestual quality. Traces of lives, layers of function, wildly creative improvisations with materials, sculptural surprises around every corner. Garbage bags performing anti-gravity feats; trash so piled up in the gutters it started to make lines across the landscape like land art; people clustered or alone, live, open paintings of the neighborhood in action. These streets are full of ambiguities between what is broken or neglected, and what has been rescued and re-appropriated.
When you move to considering these collections in terms of survival, the materials swell with importance. A tent, a tarp, a critical mass of boxes to form a small room, or even a simple piece of cardboard. Cardboard is a hero -- democratic, multi-functional, particularly in a import-oriented commercial area of town, cheap when not free, and can be cut, torn, folded, manipulated without special tools. It is improvisational. It fights for longevity as a highly resilient and adaptable material.
In design conversations with the team, cardboard had a strong resonance to all of us. One day, I'm getting into the elevator at the L.A. Mission with a large sheet of cardboard and some guy a few feet away says to the security guard standing next to him, "Where's she going with my house?" We all laugh. His delivery is perfect, and there's truth there. It's a lot of people's houses. Cardboard is housing material, privacy screen, protector/collector of possessions, mobile when you are asked to move or forcibly displaced.
This is how you start to really get to know a material. You live in it. And so, I started thinking about shelter as an event.
As a creative team, we knew we didn't want to create a facsimile of the street up in our performance space -- the fourth floor gymnasium of the L.A. Mission. It's not necessary. The challenges and dangers of aestheticizing conditions of poverty are related but different for photographers and performance makers/designers. Lighting designer Geoff Korf brought up the word elegance early on, and the word remained a bit of a sherpa in the entire design process. Not as a veneer, not as a distraction, but as a search for the ways in which things flow into each other, declaring a unified integrity.
Walking or driving around Skid Row is a visually dense experience, sometimes so much so you lose track of the individual human. McManus' text and Kurup's directing is committed to the richness of the individual in a larger ecology that's constantly shifting and changing for voluntary and involuntary reasons. Kurup talked with the design team at length about perception versus physical reality of the atomic space. What appears solid (poverty, despair, addiction, a neighborhood as distinct as Skid Row) is merely a series of independent molecules/entities in motion, with empty space around them. In the design, we wanted to make a material base with a familiar, complex, and problematic integrity, but leave empty space in a very real room for the human texture to be the audience's primary access to the landscape.
In my research about the area, I came across a map of Skid Row that tracked time-based shifts in location and density of people sleeping on the streets over a period of about 7 months in 2007. It also counted types of shelters. Working my way through the map over time, the movement of people was startling, as was the large discrepancy in numbers of shelter and numbers of people. Hundreds of people even without cardboard shelters. Even as Obama's Federal Strategic Plan aims "to end chronic and veteran homelessness by 2015, and family, youth, and child homelessness by 2020", the images down here are startling, and the time behind those images is largely invisible. Some of these folks, included in our cast, have spent ten, twenty, thirty years in a spectrum of homelessness on Skid Row. The widening inequality gap and unemployment realities appear as graphically precise as the Chinese hanzi printed on the side of so many of the boxes used to construct sleeping pads or roofs.
As Steve Pile discusses in his essay "The Un(Known) City", "the city is saturated with unknowingness" and the unknown is in fact "not so easily known - it may be all too visible right in front of our eyes, buried in the infrastructures of everyday lives, so intrinsic we hardly feel its presence anymore. And when we do, do we really want to know?"
This map doesn't consider the thousands of Skid Row residents on any given night who have temporary shelter through single-night dorm bed allotments, programs that provide transitional shelter of a month to a year in various kinds of accommodations including SRO's (Single Room Occupancies), and people who have been moved into longer-term more stable housing or apartments.
I had the privilege of a conversation with L.A. Can's Deborah Burton who talked me through the stages of housing assistance and how they impact a person's stability, security, and ability to focus further up the pyramid of needs -- rehabilitation, job training, education, reunification with children, etc. I get a strong sense of in and out. In / out of shelter, in/out of programs or services, in/out of the market-driven rhythms of city society, in/out of a community where you are known or unknown. I research shelter systems of various kinds -- temporary, post-disaster, portable, transitional, vernacular constructions. I'm preoccupied by an image of a prefab unit suspended over the street on a crane. I imagine this action paused high above the street -- between possibility and physical place with a postal address. I imagine the stories and moments in our text collected beneath that precarity, ambient on the street as life continues.
I've learned that Skid Row is a kind of complicated embrace that often draws people back -- for vices, for need, for support, or perhaps just for a sense of community that is evasive elsewhere. I thought about Zaha Hadid's urban carpet phenomena, manifested in Cincinnati's Contemporary Art Center -- a curve that pulls the activity of the street up into a cultural monolith. The symbiosis of a curve, it's relationship to gravity. Aspiration and relapse, with the ability to be populated by smaller temporary forms or moments.And there is elegance in a curve -- it declares that we have enough space to make this choice.
Working outside of sanctioned performance or cultural spaces is a privilege. Choices are suspended between a responsibility to and curiosity about the richness of the existing space and the potential of it, rendered through future-possible action -- the making of new context. For me, there is a parallel here to geographer Edward Soja's idea of a socio-spatial dialectic -- such that "space and the political organization of space express social relationships but also react back upon them." So here we are in the gymnasium on the fourth floor of the L.A. Mission in the heart of Skid Row, and simultaneously we operate on an atomic, microscopic level with our particular medium's gestures of focus. These include Meghan Healy's detail-rich clothing, Geoff Korf's evocative lights, John Nobori's soundscapes, and the tremendous work of the stage and production management team, and the many, many community members who were critical in all parts of the strategy, installation, and hosting processes. As good as an Amish barn raising. So much work and attention to balance all the realities and opportunities of an unconventional performance space.
Many acts of performance leverage a frame of viewing to create focus, to highlight an otherwise unseen moment or condense attention to support an act of story-telling. But despite the intrigue of a temporary frame, everyone in the room, participant to public, is charged to "be insistently aware of how space can be made to hide consequences from us, how relations of power and discipline are inscribed into the apparently innocent spatiality of social life, how human geographies become filled with politics and ideology." (Soja, Postmodern Geographies)
It is here -- on a long swath of cardboard, in a suspension between real space and performance event -- that "Love on San Pedro" occurs.
Dig this story? Sign up for our newsletter to get unique arts & culture stories and videos from across Southern California in your inbox. Also, follow Artbound on Facebook and Twitter.