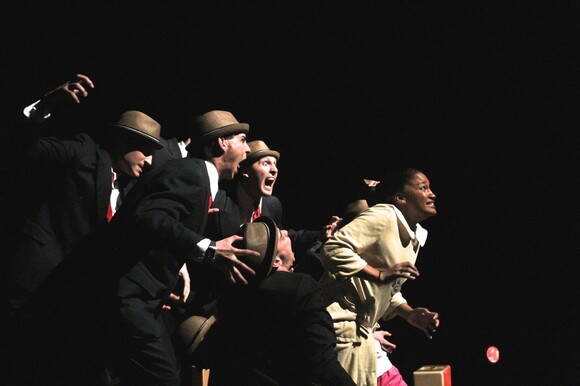 A young African-American woman walks between two rows of bus-riding businessmen dressed in identical dark suits and jaunty straw hats, their mouths menacingly agape. Suddenly, the men lunge at her like a pack of snarling, snapping wolves.
Moments later, smiling, scarf-wearing women spit on the girl's fallen form. Children point and laugh.
That startling sequence is the opening scene of "pool '63," a politically and emotionally charged play about race, prejudice and perseverance. Created in collaboration with bree valle, who heads the drama department at Cuesta College in San Luis Obispo; her husband, playwright and Cal Poly adjunct theater professor Philip Valle; and current and former Cuesta students, the production revisits a pivotal chapter in American civil rights history while drawing clear parallels between the nation's past and current conflicts in Ferguson, Mo., New York City and elsewhere.
"A play like this has perfect timing. It's a way we can utilize the stories of the past to comment on who we are in the present," said Josh Machamer, chair of Cal Poly's Theatre & Dance Department. "The play is about 1963, but it is still about us right now."
Cuesta presented "pool '63" at the regional Kennedy Center American College Theater Festival at Los Angeles last February, earning five national awards -- a huge accomplishment for San Luis Obispo County's only community college. This month, the play will represent the Kennedy Center at the International University Theatre Festival in Mexico City, sponsored by the National Autonomous University of Mexico.
bree valle predicted that "pool '63" will resonate with Mexican audiences as much as it's touched theatergoers in California. "Somebody said to me, 'Why do this show?' she said, and her answer was obvious. "If we don't talk about the past, we're going to recreate it in the future, and it will be the end of our civilization. We need to remember what fights brought us to where we are (today) ..."
Although "pool '63" takes place roughly a half-century ago, the play has its roots in something more recent -- the fatal shooting of unarmed black teenager Trayvon Martin by white Hispanic neighborhood watch volunteer George Zimmerman in Sanford, Fla, in February 2012. Outraged by Zimmerman's acquittal that July, valle, who is Canadian, decided to research the history of race relations in the United States -- and was "absolutely flabbergasted" by what she found.
That summer, valle and her husband began work on a play that would tackle the nation's history head-on, bringing her students on board in the fall. "We showed up on the first day (of class) and she was like, 'You guys, what did this country do? ... What is wrong with you Americans?'" recalled Cuesta College student Rainey Forzetting, who stars in "pool '63."
After poring over historical accounts of the civil rights movement and consulting with African American congregation members at the Second Baptist Church in Paso Robles, valle and her team started swapping ideas -- building the production from the ground up using a method known as "devised theater." They eventually settled on a simple story about two girls and a swimming pool, said valle, who drew inspiration from children's books such as "Glory Be" by Augusta Scattergood.
Set during the summer of 1963 in Birmingham, Ala. -- once described by Martin Luther King, Jr., as "the most thoroughly segregated city in the United States" -- "pool '63" examines how the families of two nine-year-old girls are affected by the civil rights movement.
Segregation laws prevent best friends Rosa Jackson (Rainey Forzetting), who is black, and Caroline Woods (Olga Siebrass), who is white, from attending the same school, checking out books at the same library, playing in the same park and splashing in the same swimming pool.
The same prejudices shape the lives of Rosa's mother, Grace (Jayde Forzetting), and her progressive-minded employer, Peggy (Mary Kerrigan), who happens to be Caroline's mother. Even so, Rosa dreams of donning her goggles and diving in.
When the city announces it is reopening public pools to African Americans -- Birmingham Mayor Art Hanes famously closed scores of public spaces rather than comply with a federal court order to integrate them -- the news inspires hope in Rosa's dad, Donald (Meshack Burton), and cautious concern in Caroline's father, John (Daniel Lewis). Both men know that Birmingham is on the brink of immense change.
Jayde Forzetting compared the process of creating "pool '63," which premiered in December 2013, to a roller coaster ride -- describing it as "incredibly frustrating" yet immensely rewarding.
"Devising is one of the most irritating but creative situations I've ever been put into in my entire life," her twin sister, Rainey Forzetting added. "All of us have these ideas that we think are the best ideas of the entire world. We play with those ideas and we maybe keep one. ... Then we realize that that one idea was a piece of shit as well and we throw it away ... and have to start all over again."
While some of their classmates struggled with "pool '63's" difficult subject matter -- racial epithets are uttered, and scenes of brutality abound -- the Forzetting sisters wrestled with understanding their characters' experiences. "We were expected to feel the struggle. We were expected to automatically feel the hardships when, growing up in Atascadero ... we haven't encountered a lot of racism in our lives," Rainey Forzetting explained. "With this show, our biggest objective is to make it real."
Thanks to the students' hands-on approach to the material, "They have an ownership of the property -- unlike most shows, where they just memorize their part and they're done with it," Philip Valle said. "In this case, they actually have a personal stamp on their individual parts. They've helped shape them and bring them to life."
Rainey Forzetting echoed the playwright's words. "It isn't just a character we're taking over. It's someone who's literally a branch off ourselves," she said.
For that reason, bree valle said, she's seen the students grow. "They feel empowered, and they walk differently and they speak differently. And they feel that they have value -- more value, perhaps, than they did before," she said. "That's so thrilling."
That sense of empowerment and investment was evident to Machamer, who serves as a Kennedy Center American Theater Festival respondent. After he saw "pool '63," he insisted that the play be seen by a wider audience at the Kennedy Center's Region 8 festival, which featured college and university productions from Arizona, California, Colorado, Hawaii, Nevada, Utah and Guam.
"Bree and Philip getting together in a room with students -- many of whom had never been on the stage before -- and creating that production is an extraordinary accomplishment," said Gregg Henry, artistic director of the Kennedy Center American College Theater Festival. "It was the most dynamic, progressive staging that we saw all last year."
"I'm proud of 'pool '63,'" Henry said, and he's proud that the "essentially timely" Cuesta production will represent the Kennedy Center in its first visit to the International University Theatre Festival. "This is the opening of what I hope to be a very productive and creative relationship" with arts leaders across the border, he said.
One of the aspects that attracted the Kennedy Center's attention was the minimal nature of the staging, sets and props. In "pool '63," plain wood blocks serve alternately as briefcases, school desks, daises and diving boards.
"The reason we stripped it down to nothing is because we had no money," valle explained. "We don't have money for a set. We don't have money for royalties."
"Our aesthetic is more toward things that are stripped down, actor-generated, movement-based," her husband added. "All the other, extraneous things that are often part of theater are things that we have been trying to omit more and more"
"Everyone's looking to have new methods of creating work, and we have our own specific method that is attractive to them," Philip Valle said. In fact, the Valles will lead a two-day devising workshop during the International University Theatre Festival, working with Mexican students to create an original theater piece based on their own nation's history.
Ultimately, the cast and crew of "pool '63" -- which includes technical director Richard Jackson, a Cuesta faculty member -- hope the production inspires audiences everywhere to take a hard look at the current state of the civil rights landscape.
"We tend to turn our heads and shy away from ... how people are being treated, because as long as we don't hear about it, as long as we don't see it, it's not happening," Rainey Forzetting said, which is why the culture is so slow to change.. "With theater, we're forcing you to confront it right in that moment. If you still choose not to do anything, it's going to eat at you."
Dig this story? Sign up for our newsletter to get unique arts & culture stories and videos from across Southern California in your inbox. Also, follow Artbound on Facebook, Twitter, and Youtube.