The Art of Unrest: The Political Undertones of Noah Purifoy and Mark Bradford
Two solo exhibitions at Los Angeles area museums this summer present significant bodies of work by African Americans whose artistic careers have blossomed in this city. "Mark Bradford: Scorched Earth" at the UCLA Hammer Museum presents new paintings and an audio installation by this leading contemporary artist, whose interests and career trajectory reflect the influence of an earlier generation as well as his own upbringing in South Central and Santa Monica. "Noah Purifoy: Junk Dada" at LACMA surveys works from the late 1950s through the early 2000s, tracing how the late assemblage artist, arts educator, and social worker employed everyday found materials in works that bridge painting and sculpture. Both artists are informed by broad trends in 20th century art history as well as by pivotal moments of turmoil within the marginalized communities of Los Angeles.
Bradford carries forward a materials-based approach to art making, established by Purifoy and others in the 1960s, through collecting and excavating. Through paintings made from found materials, a site-specific wall installation, and a sound piece (all dated 2015), Bradford engages the intersectional politics of black and queer identity while maintaining contemporary art language that situates his work within an established conceptual art framework. Bradford came of age in the 1980s, witnessing the destruction of his primary communities of identification by two significant historical events: the HIV/AIDS crisis which decimated the gay scene in Los Angeles and other major metropolitan centers, and the 1992 Rodney King riots, which rekindled much of the latent anger within L.A.'s African American neighborhoods that the 1965 Watts Rebellion had exposed a generation prior. His works channel the anxiety which these tragic events wrought on the landscape of the city while engaging with the scale and politics of landscape in painting throughout the history of Western art.
In the Hammer's lobby gallery, he has ground away multiple layers of paint and wall to create a massive map of the United States in which each state is labeled with its statistical number of AIDS cases as of 2009. The work's title, "Finding Barry," references one of the deepest-buried previous installations to be dug out from the layers of wall: a 2000 installation by San Francisco-based artist Barry McGee, who, like Bradford, brings the language of the street into the gallery and negotiates multiple, conflicting identities. Bradford deliberately uses outdated statistics to highlight the gap between tracking the disease and stopping its spread, while using the map motif to subtly connect HIV/AIDS' global proliferation to colonial expansion and Manifest Destiny, a history fraught with instances of sickness wielded against vulnerable and marginalized populations as well as with religious rhetoric that justified unspeakable violence against these groups. Growing up in L.A.'s gay clubs during the Reagan era, Bradford was painfully aware of the consequences of such moralizing rhetoric for the impoverished and disenfranchised, be they people of color, LGBTQI individuals, or both. His use of the conceptual art strategy of appropriating signs and information to express unexpected ideas is a form of "code-switching," employing visual tropes that shift between art world and community-based points of reference.
A sound installation, "Spiderman," takes the form of a stand-up comedy routine and is the element of Bradford's exhibition most directly pitched toward an African American audience. Working with established cultural tropes, the artist largely disconnects from art world contexts in order to alternate between black and queer vernaculars in his irreverent discussion of the AIDS epidemic and its origins. The work is presented in a bare, darkened room, with a crude closed-caption transcript as the only visual element. A raucous laugh track further situates the installation within the cultural paradigm of the 1980s, referencing the artist's formative experiences reconciling conflicting personal identifications through cultural markers.
The suite of paintings in "Scorched Earth" take Bradford's signature material -- layers of billboard posters, cut through and sanded -- as a stand-in for the body as well as his more frequent subject, the urban landscape. Unlike in works past wherein Bradford's cuts and lines often resembled the layout of streets within the metropolis, the cuts in these works tend to follow a radiating pattern from the center out to the edges of each canvas. Deep gouges, each one fourth-inch wide or more, cut precisely through the paintings' surfaces. Sanded spots appear like welts or lesions on the skin of the paintings, invoking burn scars as well as the cancerous Kaposi's Sarcoma that are a telltale sign of AIDS infection. Certain works, like "Dead Hummingbird," take the motif even farther by combining mottled dark red and black paint to evoke a fleshy wound. Three more large paintings have been created by affixing black paper to canvas using acrylic medium, which causes the paper to shrink and reveal purplish staining beneath. The results appear like mountainous topographies. These works are described as "[approaching] nineteenth-century romantic painting in their massive scale and verticality." Such a claim prompts consideration of how Bradford, and Purifoy before him, engaged with the visual language of Romanticism while abandoning that movement's representational aesthetics.
Romanticism is a 19th century movement in Europe and the United States, born of the desire for a return to deep emotional themes in art in the wake of 18th century Classicism's emphasis on intellectual and historical idealism. It appears against the historical backdrop of democratic revolutions in the U.S. and France, and large-scale colonial expansion from Europe into Africa and Asia and across the United States into territory once controlled by native populations as well as Mexico. Romantic artists emphasized the grand gesture, embracing mythology, allegory, and non-Western source material to describe scenes of ecstasy and horror. Artists sought to invoke the sublime, a combination of exquisite beauty and raw terror that was esteemed as the highest possible affect for a work of art to create. Romanticism appealed less to the ruling class served by Classicism, and more to the new middle class whose recent democratic enfranchisement was reflected in the promise of individual and direct engagement with the art, devoid of complex metaphors and philosophical theories.
Bradford's paintings invoke Romanticism in their large scale and in the fluctuation between passages of beauty and abjection, disgust, or horror. Though abstracted, traces of landscape remain in marks that resemble rivers, mountains, streets, and craters. The artist's references to the terrors of race riots and epidemics echo in the roughness and irregularity of his surfaces. This tendency parallels Purifoy, whose inspiration for the exhibition "66 Signs of Neon" in response to the 1965 Watts Rebellion was "little mirrored pieces shining up from the ash... Neon signs had melted in the fires and formed little jewel-like objects." Purifoy's desert opus takes the Romantic inspiration further, embracing that movement's love of harsh landscapes and dramatic skies while mounting a heroic, yet pathetic, human-scaled response. At the same time, both artists reject the Romantics' complicity with colonial rhetoric by working primarily with refuse and other "lowbrow" forms, thereby introducing an anti-heroic perspective that is essential in aligning their works with the concerns of the colonized and the marginalized.
Born in Alabama, Purifoy established himself in Los Angeles in 1950 after spending time in Cleveland, Atlanta, and in the South Pacific as a member of the U.S. Navy during World War II. Though he earned a BFA from Chouinard Art Institute in 1956, his approach to art-making was already well-informed by his experiences as a teacher, a social worker, and a Navy construction worker. His artistic practice was galvanized by the Watts Rebellion, a moment when he understood with stark clarity how his personal and professional goals as an artist diverged from his sense of responsibility to the African American community of his adopted city. According to Sue A. Welsh, co-founder and trustee of the Noah Purifoy Foundation, the artist came to realize how "[his] body and mind had been estranged," asking of his fine art education, "Is what I know applicable to me?" He began to wonder what the value of an artistic practice could be to a community ravaged by poverty and brutality, and whether his participation in an art world oriented toward social elites might mean that he was complicit in the oppression of his own people.
Exhibition co-curator Franklin Sirmans, LACMA's Terri and Michael Smooke Department Head and Curator of Contemporary Art, has written that Purifoy was "a devout wearer of the DuBoisian mask," which suggests that the artist walked in two distinct worlds and effectively obscured his socio-political leanings for the benefit of his artistic ambitions. Sirmans clarifies, "Purifoy wore his colors pretty clearly. So, while I allude to the fact that we all don a mask to some degree, I'd say now that the binary suggested by the phrase is more loosely applied here. People were people to Purifoy -- though he knew, as we all know, that people aren't treated the same by all people. In order to accomplish some things, he taught, for others he made art, and for some he served as an artist among bureaucrats on the California Arts Council." Between 1965 and 1987, Purifoy engaged in social service as founding director of the Watts Towers Arts Center and as a founding member of the California Arts Council, while intermittently maintaining his object-based art-making practice.
Though primarily recognized as an assemblage artist, his commitment to community-based art education prefigures a movement toward social practice which has activated art's relationship to audiences over the past two decades. Sirmans explains, "The show, 'Noah Purifoy,' is an exemplar of [LACMA's] long commitment to the artists and art of Southern California. It's fitting that there's work [on view] downstairs by artists like Charles White, Robert Rauschenberg (in Resnick), Ed Kienholz, and David Hammons with whom Purifoy's name often comes up. By the same token, Purifoy's work as a social activist and an artist points to 21st century concerns and is evident of a stance taken by younger artists such as Theaster Gates and Andrea Zittel." It's also striking that Purifoy, whose work shares deep connections with so many internationally recognized artists, has until now been recognized primarily within Californian and African American-focused exhibitions and institutions. Purifoy was acutely aware of this oversight, stating, "I'm not angry about anything anymore... MOCA [Los Angeles] is inclined to show Edward Kienholz. I've been equal to Kienholz ever since I started out, but they never decided to show my stuff. Those are the beefs one could have. I feel equal to Kienholz any day. We've shown together but he's white and I'm black. That's the difference." With the renewed interest in his work enabled by his inclusion in the Getty Pacific Standard Time initiative and the LACMA exhibition, there is hope that this historical omission can yet be rectified.
Within the galleries at LACMA, three distinct bodies of work from Purifoy's oeuvre are on view. A selection of works from the exhibition he co-curated with Judson Powell, "66 Signs of Neon," as a reflection on the Watts Rebellion in 1966, includes objects by Purifoy as well as Debby Brewer, Powell, Ruth Saturensky, and Arthur Secunda. Purifoy's contributions, particularly his works in Plexiglas, are of a piece with those of California contemporaries of the 1960s identified with the Light and Space and Finish Fetish movements, including James Turrell, Larry Bell, Robert Irwin, and John McCracken. The next group of works date from 1967-1970, and demonstrate a significant rethinking of Purifoy's approach to materials. In these works, the precision details and tidy finishes of the earliest sculptures are abandoned in favor of a rough-hewn aesthetic that allows found materials such as wood and plastic to maintain their inherent textures and visual characteristics. Like his conceptual art contemporaries including Sol LeWitt, Eva Hesse, and Donald Judd, Purifoy made works that are sculptural but also relate to painting, as many are wall-hung and others still contained within rectangular "frames." A third group, dating from 1987 until the artist's death in 2003, aligns with Purifoy's migration from his West Adams studio to the High Desert near Joshua Tree, where he established the Joshua Tree Outdoor Museum populated with massive assemblages situated outside in the open desert air. The scale of these works is vastly expanded from those of the 1960s, and the objects are fashioned to mediate the immense natural landscape in which they are situated. All three bodies of work demonstrate Purifoy's deep engagement with ideas about phenomenology, the human body's experience of space and time as negotiated through our interactions with objects, which has been a central concern of much 20th century art.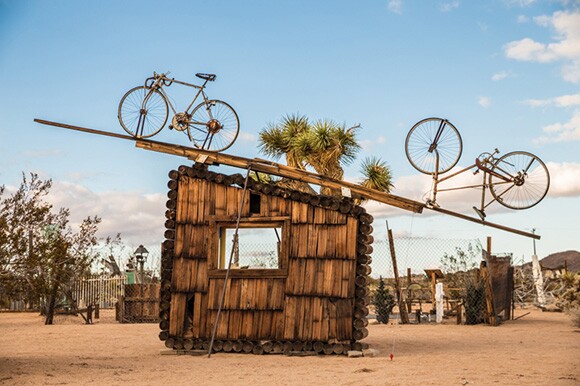 Having studied the philosophical forefathers of phenomenology, Edmund Husserl and Martin Heidegger, as well as the theories of Sigmund Freud, Purifoy arrived at an understanding of art as visual and social phenomena that would find widespread currency in the art world over a decade after his emergence, with the advent of conceptual art. He used the detritus of the city to address phenomenology as a facet of the Black experience, informed by distinct cultural knowledge yet overlapping with the broad concerns of 20th century modernism. Firmly rooted in the traditions of Dada and assemblage established by Marcel Duchamp, Kurt Schwitters, Rauschenberg, and Louise Nevelson, Purifoy's work nonetheless derives from what bell hooks calls "An Aesthetic of Blackness," which she describes as originating "in the traditional southern racially segregated black community" as "a concern with racial uplift that continually promoted recognition of the need for artistic expressiveness and cultural production." His massive installation in Joshua Tree explores desert phenomenology in a related way to artists of the Land art movement such as Michael Heizer and Walter de Maria, whose work has long been championed by LACMA Director Michael Govan, although its aesthetics and economies are substantially different. It is jarring to see some of the desert sculptures relocated to the museum galleries and contained within discreet sandbox-pedestals. Asked about the tendency of exhibition curators to want to isolate the desert works within museum settings, Purifoy said, "I do have problems with that because they were made to be in the desert. But, when somebody... comes along and offers you a retrospective and promises you some recognition and returns, what can you do? 'I want this piece, that piece, this piece.' Then I say, 'OK, if you could dig it up, you can take it home.'" Such contradictions are endemic to Purifoy, whose mature perspective embraced dichotomies like these as inevitable.
The LACMA exhibition situates Purifoy quite firmly within the Western canon. As an artist with an eye on his place in history, he would seem to have preferred this, stating, "as far as contemporary art is concerned, that's all I've ever done is contemporary art." However, Purifoy's peers in the community of Black artists in Los Angeles, such as Powell, identify influences in his work ranging from George Washington Carver to vernacular architectures of the Deep South to Congolese fetish sculptures. Perhaps rather than wearing a mask, Purifoy can better be understood as "code-switching" much like Bradford: reflecting how the signs he employs carry different meanings depending on the cultural context brought to the work by the viewer. The great challenge posed to those who would historicize and theorize this artist is to reconcile the competing impulses of ethnic specificity and universal accessibility which permeate his practice.
Comparing the two artists also reveals significant contrasts between their experiences across two generations. While Purifoy's approach to "art as a tool for social change" took him out of the art network and market for nearly two decades, Bradford has been able to leverage his profile within the art world to establish a non-profit, Art + Practice, in Leimert Park this past year with the full support of arts patrons and institutions, including the Hammer. Purifoy's legacy has largely been carried by other African Americans, including Powell, Sirmans, and Lizzetta La Falle-Collins (who curated the artist's first museum solo exhibition in 1997), as well as others who knew him personally, such as Welsh and exhibition co-curator Yael Lipschutz. Bradford, who has been championed at all levels of the field and recognized with a MacArthur grant before his 50th birthday, is remarkably only now enjoying his first solo museum show in his hometown of L.A. These developments begin to point the way toward a possible future when African American artists and other artists of color will be granted equal opportunities to influence the culture through visual art with the full support of institutions.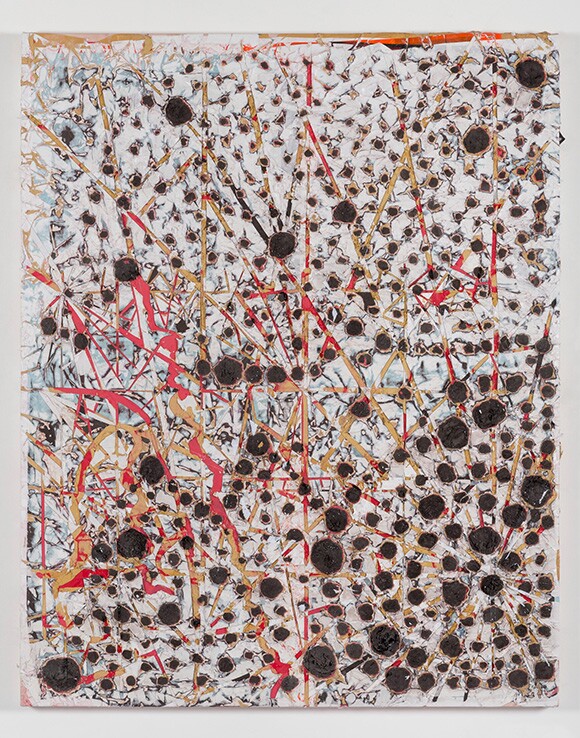 ---
Notes:
1 "Mark Bradford: Scorched Earth" exhibition wall text
2 Judson Powell, "Noah Purifoy: Junk Dada" p. 101
3 Sue A. Welsh, panel discussion at LACMA, June 7, 2015.
4 Franklin Sirmans. Preface and Acknowledgements. "Noah Purifoy: Junk Dada." Munich, London, New York: Delmonico Books/Prestel, 2015. p. 10
5 Franklin Sirmans, interview with the author via email, June 2015.
6 Franklin Sirmans, interview with the author via email, June 2015.
7 Ian White. "Interview with Noah Purifoy, 1997." "Noah Purifoy: Junk Dada." p. 107
8 bell hooks. "An Aesthetic of Blackness: Strange and Oppositional." Lenox Avenue: A Journal of Interarts Inquiry, Vol. 1 (1995). p. 66
9 C. Ian White. p. 105
10 C. Ian White. p. 106
11 Judson Powell. p. 101
---
Read more about artist Noah Purifoy:
Assembly Required: The Transformative Art of Noah Purifoy
Noah Purifoy spent the final years of his life in Joshua Tree creating the monumental "Outdoor Desert Art Museum of Assemblage Sculpture" made from tons of discarded materials.
Noah Purifoy's Sophisticated Assemblage
At LACMA, exhibition "Noah Purifoy: Junk Dada" traces an overall chronology of the assemblage artist life's work.
Junk Dada: The Stories Behind Noah Purifoy's Joshua Tree Sculptures
The Noah Purifoy Outdoor Desert Art Museum of Assemblage Sculpture, open to the public, illustrates the artist's vision during the last 15 years of his life.
Packrats and Possum Trot: Artists and Collectors of the Desert
A closer look at the collection habits of humans and other species suggest that we are all purveyors and taxonomists of discarded refuse, inorganic or otherwise.
---
Dig this story? Sign up for our newsletter to get unique arts & culture stories and videos from across Southern California in your inbox. Also, follow Artbound on Facebook and Twitter.