Lina, 53, came from Guatemala, where war had taken her husband's life and left her widowed with five children. The trip across countries into the United States was grueling; she recalls the coyotes (smugglers of immigrants) leaving behind a boy who couldn't keep up with the group. She cut her hand, walked with sponges on her feet and ended up in a van taking her from Arizona to Los Angeles. She spent years working as a maid to earn the money to bring her children to the U.S. At $7,000 a trip, she had to save for them one child at a time. Her youngest was three when she left Guatemala and 23 when they reunited.
Lina's story is one of several that are told inside "Carne y Arena," the virtual reality exhibit from Academy Award-winning director Alejandro Iñárritu now running at Los Angeles County Museum of Art. The stories are all different. You'll hear from a young man originally from Guatemala who only spoke K'iche', a Mayan language, before arriving here, an attorney who recalls the journey from Mexico that he made as a child and a border patrol officer who remembers witnessing the tragedies that struck some of those who attempted this trip. Their experiences are told in English and Spanish, but this comes at the end of the exhibit. To get here, you have to go into the desert first.
"Carne y Arena (Virtually present, Physically Invisible)" is an immersive installation. It incorporates room-scale virtual reality technology, but the scope of the project goes beyond VR. You'll start to feel the weight of the subject matter well before you put on the VR headset.
Iñárritu is renowned for his work in film, having directed acclaimed films like "Amores Perros" and "21 Grams" before earning consecutive Oscars for "Birdman" and "The Revenant." With "Carne y Arena," though, he jumps into the emerging world of virtual reality with help from cinematographer Emmanuel Lubezki, who also won Oscars for his work on "Birdman" and "The Revenant." The project debuted last May at the Cannes Film Festival, where it was the venerable events first "Official Selection" in VR. Shortly thereafter, it headed to the Fondazione Prada in Milan. "Carne y Arena" made its U.S. debut at LACMA on July 2.
"Carne y Arena" tackles the subject of undocumented immigration to the United States, but it's not a documentary. Back at Cannes, Iñárritu told Deadline that he "didn't want to be so literal" in this project. That extends to the title. Literally, "Carne y Arena" means "meat and sand." Figuratively, though, it points to the lack of humanity in today's discussions about immigration. Moreover, if you read the title as the English word arena, there's an element of voyeurism that comes into play and that's part of this installation too. You're watching a situation unfold as closely as you can without actually being a part of it.
This is a story about human bodies crammed into vehicles and transported across borders, of people who use their life savings to make journeys where there are no guarantees of a safe arrival. The weather is brutal. That alone could kill a person. Moreover, there's always the looming fear of getting caught, of people being herded together by border authorities.
In short, it's not the easiest story to experience.
After reading the artist's statement, the viewer heads into a waiting area as stale and institutional as a holding cell. Here, you remove your shoes and place them in a locker. There are other shoes surrounding you, mismatched, worn kicks that were, in a previous life, discarded or lost somewhere in the desert. It's isolating inside this room and quiet enough where the sound of an alarm comes as a shock, even if you have been told beforehand that it's coming. The alarm is your cue to enter the virtual reality stage. It's a large, dark area with sand covering the ground and fence-like walls. Here, you're strapped into gear as the sand rubs and clings to the soles of your feet. Once inside the headset, this strange, cold room becomes a vast expanse of desert near the U.S.-Mexico border and you are now part of a group nearing the end of the journey.
There are people with you — men and women, older and younger folks — and wind slaps cold against your real body as your virtual one explores the land surrounding you. Tension arises quickly. There are helicopters and officers and people screaming. English and Spanish overlap. One person though doesn't speak either language. It's at times difficult to figure out what people are saying. The voices become a cacophony of confusion and fear. You can move around, but where do you go?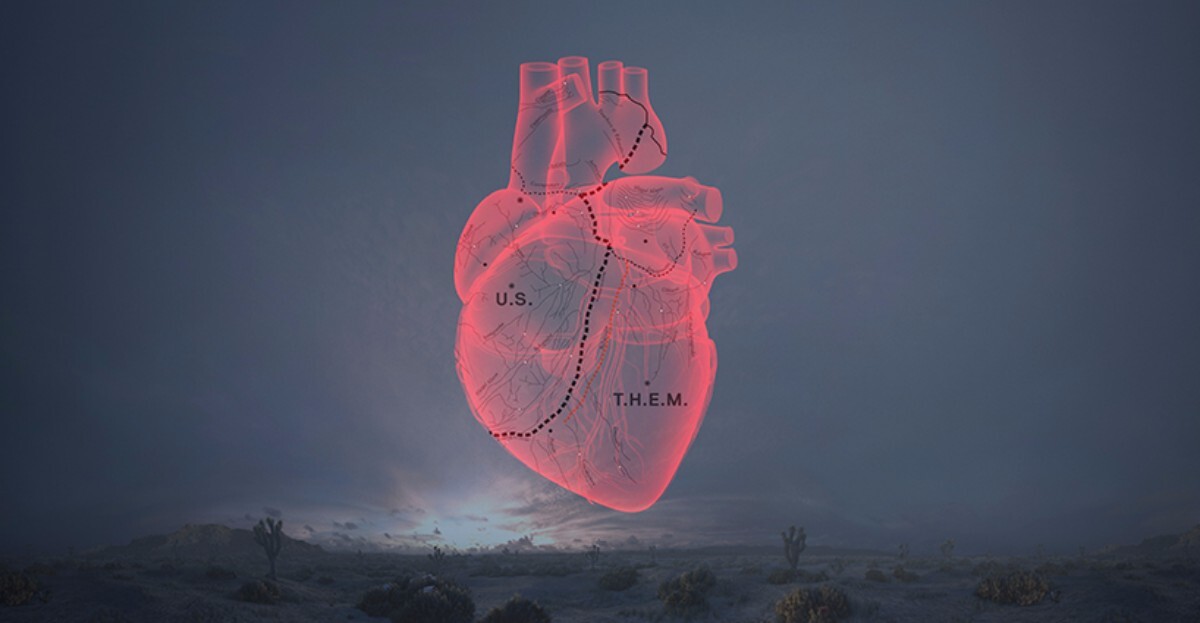 The virtual helicopter feels like it's flying a little too low and there is very real sand rubbing against your feet. Look down, though, and you won't be able to see your own toes. You might, however, notice the tracks of people who have crossed this land before you did. You're here, but you're also not here. The exhibition's parenthetical head "virtually present, physically invisible" makes complete sense now. So, when you hear the officer yelling commands to drop down and keep your hands up, you may not know what to do. Is he actually talking to you?
For six-and-a-half minutes, you live inside a fictional world composed of the real stories of people who have made the journey into the U.S. through the southern border. The people whose images and stories appear at the end of this exhibition, in a corridor leading you back out into the light of LACMA, are the ones who inspired this. Their experiences are so similar that they weave seamlessly into a single scene that can haunt the viewer for days after the fact.
Given the technology involved in presenting "Carne y Arena," the exhibition comes with a laundry list of warnings and restrictions. It's not recommended for people with claustrophobia, epilepsy and other medical conditions. Viewers have to sign a waiver and liability release before entering. Guests are warned about the level of immersion involved with virtual reality. That comes with the medium. The immersive quality of VR can be extremely intense regardless of the content. It does take a few experiences to get used to the feeling of entreating and exiting worlds that don't really exist, even if they feel like they do.
But, with "Carne y Arena," the content adds another layer of intensity. You're not dropping into a whimsical world of video game-like characters here. You're entering a situation similar to real life ones that have happened time and again over the course of decades. You're inside this world now and it feels like something very bad could happen at any moment, yet you are incapable of stopping it. When the headset is removed, it's like waking up from a nightmare that you can't shake out of your head. Quite frankly, it's terrifying. Maybe that's the point.
Like this story? Sign up for our newsletter to get unique arts & culture stories and videos from across Southern California in your inbox. Also, follow Artbound on Facebook, Twitter, and Youtube.